DIL 554/H Dilution System
DIL 554/H Dilution System for static dilution (1:100) of aerosols at static air flow rate (56,6 L/min) for mobile operation
The main application of the DIL 554/H Aerosol Dilution System is in the verification of test aerosols for testing clean rooms.
Guideline EN ISO 14644-3 defines the necessity of appropriate dilution systems when using test aerosols for verification. According to standard VDI 2083 for testing clean rooms and work benches it is compulsory to carry out measurements with increased concentrations in the incoming aerosol.
Interested?
We will gladly advise you
Benefits
designed for mobile use (no auxiliary pressurized air and additional exhaust needed)
battery-operated with status indicator (optional with power adapter)
constant and reproducible aerosol dilution even under changing operation conditions
continuous control and display of actual dilution ratio
long-term lifetime and reliability, minimum maintenance required
precise operation in both over and under pressure mode
Applications
validation of laminar air flow boxes/benches and clean room/environments
evaluation of filtration efficiency
measurement of highly concentrated aerosols
aerosol research
From the aerosol flow to be diluted, a sample is passed through a thin capillary. The particle concentration of the capillary flow rate remains unchanged, whereas a HEPA filter removes nearly all particles from the bypassing flow rate. After the capillary and filter both flows are remixed. The dilution ratio results from the ratio between the two single flow rates.
| Parameter title | Unit | Value |
| --- | --- | --- |
| purpose of conditioning | - | dilution of aerosols |
| sample condition, outlet | - | diluted aerosol |
| dilution factor | - | 100 |
| aerosol, volumetric flow rate | L/min | 56,6 (optional 50) |
| setting method | - | manual |
| sample condition, inlet | - | non-diluted aerosol |
| power supply | - | 9 V battery block (optional power adapter) |
| hose connector | mm | Ø 10 |
| pressure drop | kPa | approx. 0,6 |
| environmental condition, temperature | °C | 10 ... 50 |
| environmental condition, max. counterpressure | kPa | ± 30 |
| dimensions (w × h × d) | mm | 120 × 195 × 300 |
| weight | kg | 3,2 |
carry case for one dilution system DIL and one aerosol generator
Silimar products
DIL 554
DIL 554 Dilution System for static dilution (1:100) of aerosols at static air flow rate (28,3 L/min) for mobile operation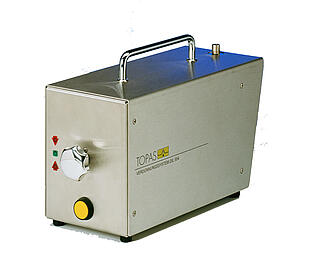 detail view
DIL 554/T
DIL 554/T Dilution System for static dilution (1:100) of aerosols at static air flow rate (28,3 L/min) for mobile operation, 1/4'' hose connector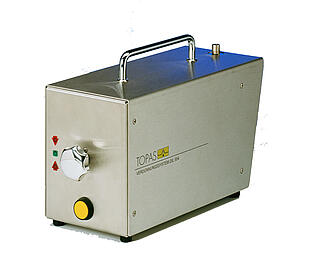 detail view
DIL 554/Z
DIL 554/Z Dilution System for static dilution (1:10) of aerosols at static air flow rate (28,3 L/min) for mobile operation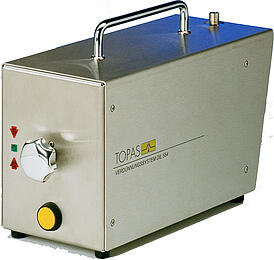 detail view