ATM 230
Atomizer Aerosol Generator ATM 230 for aerosol generation from liquids, compressed air operated, high mass flow rate
The Atomizer Aerosol Generator ATM 230 produces droplet aerosols with known properties according to the guideline VDI 3491-2.
The ATM 230 is designed as a serial instrument with an external compressed air supply. The liquid reservoir is arranged within the housing.

The ATM 230 provides a high aerosol output. Its design and technical solution warrants highly constant particle size distributions as well as particle concentration with high reproducibility.

The ATM 230 is able to aerosolise various liquids, for example PAO (Emery 3004), DEHS, salt solutions, PSL-standards suspensions.
Interested?
We will gladly advise you
Benefits
polydisperse aerosol, mainly below 1 μm (DEHS)
excellent stability in generation of particle size distribution and particle concentration
suitable to produce PSL aerosols
by variation of the nozzle pressure, the particle production rate can be adjusted in a wide range
Applications
testing of HEPA and ULPA filters and filter media
acceptance tests of large cleanroom facilities
visualisation of air flows (tracer particles)
The atomizer is the core component of the ATM 230. It is made of high quality stainless steel and works as a two-stream nozzle, based on the injection principle. The atomizer is equiped with a impaction plate that serves for removal of coarse droplets.
| Parameter title | Unit | Value |
| --- | --- | --- |
| setting parameter | - | system pressure |
| setting range | bar | max. 6 |
| setting resolution | - | continously adjustable |
| setting method | - | manual |
| aerosol, volumetric flow rate | L/h | 500 ... 2500 |
| aerosol, mass flow rate (aerosol substance) | g/h | max. 20 |
| operating medium, aerosol substance | - | pure liquids (DEHS, PAO, ...), solutions (NaCl, KCl, ...), suspensions (PSL, A1, ...) |
| operating medium, aerosol substance - filling volume | mL | 100 ... 500 |
| operating medium, gas/air | - | dry, particle-free air or pressurised inert gas |
| operating medium, gas/air - compressed air supply | bar | max. 8 |
| environmental condition, max. counterpressure | kPa | 20 |
| hose connector, outlet | mm | Ø 19 (outer diameter) |
| dimensions (w × h × d) | mm | 230 × 225 × 380 |
| weight | kg | 3,9 |
upgrade kit for operation with salt solutions
Silimar products
ATM 210/H
Atomizer Aerosol Generator ATM 210/H for aerosol generation from liquids against counter pressure up to 10 bar, compressed air operated, high mass flow rate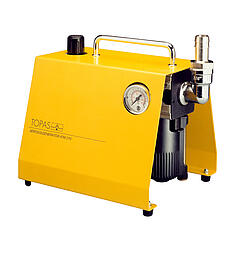 detail view
ATM 220
Atomizer Aerosol Generator ATM 220 for aerosol generation from liquids, compressed air operated, base model with broad operational range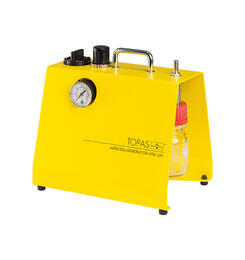 detail view
ATM 231
Atomizer Aerosol Generator ATM 231 for aerosol generation from liquids, compressed air operated, submerged nozzle, high mass flow rates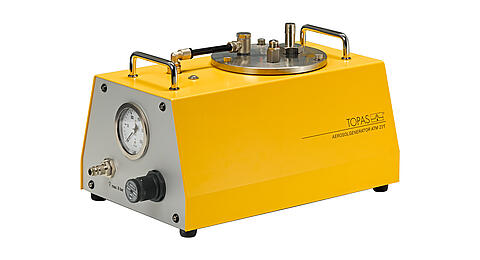 detail view