ATM 240/L
Atomizer Aerosol Generator ATM 240/L for aerosol generation from liquids, compressed air operated, high mass flow rate, ideal for PSL aerosols acc. ISO 29463
The aerosol generator ATM 240/L is used to generate a highly concentrated aerosol out of a suspension for testing air filters using polystyrene (PSL) particles.
In sensitive areas such as semiconductor and aerospace industry the testing of high efficiency HEPA filters is often not carried out with the commonly used oily aerosol substances (DEHS, PAO, etc.).

Even the smallest amounts of these substances can be stored in the filter and outgas in the application and can lead to product damages. The standard DIN EN 1822-4 describes the filter test with solid particles.
Interested?
We will gladly advise you
Benefits
generation of high concentration PSL test aerosols with low dispersion volume compared to other aerosol generators
integrated aerosol drying to minimise the need for additional technical equipment
possible start/stop operation for individual tests
Applications
testing PTFE membranes with inert solid aerosol
testing of special filters for the aerospace and semiconductor industries
leak tests on HEPA filters according to ISO 29464-4 (formerly EN 1822-4) Annex D
generation of test aerosols consisting of monodisperse polystyrene latex spheres
The ATM 240/L is equipped with a vorticity slit nozzle, which is supplied with aerosol substance (PSL dispersion) and compressed air. From the droplet aerosol emerging at the nozzle slit, coarse droplets are initially separated due to inertia. Finer droplets are distributed in the aerosol formation chamber by a special vorticity ring. The compressed air flow rate transports the gradually drying aerosol away. Before leaving the generator, aerosol particles are exposed additionally to drying air to guarantee a drying-stable aerosol at the generator outlet.
| Parameter title | Unit | Value |
| --- | --- | --- |
| setting parameter | hPa | nozzle pre-pressure |
| setting range | hPa | 750 ... 2500 |
| setting resolution | hPa | continously |
| volumetric flow rate, aerosol | L/h | 10000 ... 24000 |
| mass flow rate, aerosol substance | g/h | 130 |
| power supply | - | 24 V DC (adaptor) |
| operating medium, aerosol substance | - | dispersion/suspension of polystyrene latex particles (PSL) |
| power consumption | W | < 5 |
| hose connector | mm | 25 (inner diameter) |
| dimensions (w × h × d) | mm | 900 × 400 × 300 |
| weight | kg | 25,0 |
Silimar products
ATM 222
Atomizer Aerosol Generator ATM 222 for aerosol generation from liquids, compressed air operated, pneumitic-controlled, remote controllable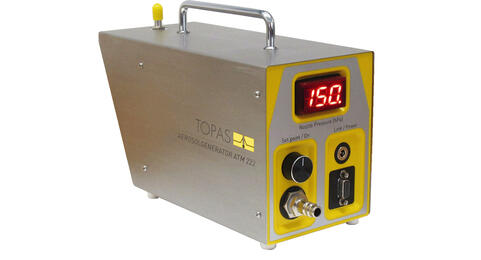 detail view
ATM 228
Atomizer Aerosol Generator ATM 228 for aerosol generation from liquids for mobile use, integrated compressor, pneumitic-controlled, remote controllable
detail view