SPT 140
Test System SPT for testing of separator, especially for blow-by oil mist separators
The Oil Separator Test Rig SPT 140 is designed for automated testing procedures in order to obtain results regarding flow regimes and gravimetric and fractional particle removal efficiency.
Crankcase ventilation systems are using oil separators in order to reduce oil consumption and even more important nowadays to reduce final emission rates of the engine. Catalysts can also be adversely affected by burned oil residuals in the exhaust. Crankcase ventilation systems CCV are optimized by measurements of:

- fractional particle removal efficiency
- discharge curve (pressure and volume flow)
- pressure regulation curve
- leakage

at engine test benches.

An increasing number of oil separator manufacturers are now using special test benches like the SPT 140 to study the performance and to optimize separators design by simulating the above parameters. The sample is tested in over and under pressure mode with an especially conditioned aerosol (mass flow rate, temperature). The environment of the sample is tempered as well. The separated and passed oil is measured depending on volume flow rate. The measurement is done gravimetric with an absolute filter. The oil mass leaked from the separator is detected online. Likewise the leakage of the oil drain can be measured. The test rig simulates typical application of oil mist separators. Recording the pressure regulation curve is made by measuring the "pressure in the crankcase ventilation system " versus "air intake pressure" at several volume flow rates. The fractional particle removal efficiency has also become an important parameter in recent studies.
Interested?
We will gladly advise you
Benefits
compact test bench
wide range of flow rate
sample holder adjustable for different sample dimension
heated oil mist generator (maximum 120°C)
closed loop system for different pressure regimes
possibility of opening up the secured testing channel
heatable Aerosol Generator ATM 243 also utilizable without SPT 140
Software guided testing procedure
test rig control and data acquisition software for Windows
precise flow rate analysis
Applications
testing of oil mist separator
| Parameter title | Unit | Value |
| --- | --- | --- |
| test flow rate | m³/h | 0,9 ... 18 or 1,2 ... 24 |
| test aerosol | - | droplet aerosol based on mineral or synthetic engine oil |
| differential pressure of test specimen | Pa | ± 20000 |
| operating medium, gas/air | - | room air (common laboratory conditions) |
| operating medium, gas/air - compressed air supply | bar | max. 6 (300 L/min) |
| operating medium, water - water supply | bar | max. 6 (from water network, max. 20 L/h, for cooling circuit) |
| power supply | - | 400 V, 16 A |
| aerosol generation technology | - | ATM 243 or LDG 243 (optional) |
| dimensions (w × h × d) | mm | 2100 × 1200 × 925 |
| weight | kg | approx. 400 |
Silimar products
GMS 141
GMS 141 gravimetric sampling system of oil concentrations at Blow-By oil mist separators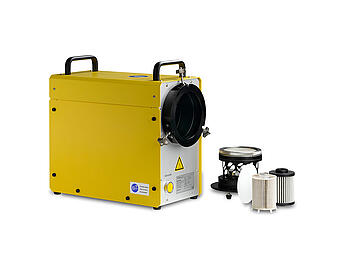 detail view